" This is the greatest ColecoVision Video Game system you will ever need! "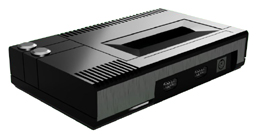 A reimagining of the greatest arcade quality video game system of all time.

Engineered with an FPGA., no emulation, total accuracy!
It is the definitive way to revive the ColecoVision's 8-bit era.

100% accurate and compatible with all ColecoVision game cartridges!

Explore and re-live the greatest arcade quality video game system with no compromises.



CollectorVision Phoenix Video Game System:




Dimensions:

7.50″ wide = 19 cm.
4.75″ depth = 12 cm.
1.70″ high = 4 cm.
Final Case design subject to change.



Technical Specifications:

Spartan 6.
Currently unavailable details.


Compatibility:

Compatible with all ColecoVision game cartridges.
Region free: NTSC and PAL and French Tv. Systems.
Worldwide Compatibility Power Supply: 100-240V., 50-60Hz.
SGM™ built in the system, it will play all your Super Game Module™ games, Officially licensed by Opcode Games.
For SGM alone is this a value in itself for about $ 100,-


Video:

F18A HDMI Output. 640 x 480p, upscaled 4:3 Digital Retro signal.



Audio:

Digital audio via HDMI.
The SEX7289 "Courtney" Wavetable Sound Generator (WSG) is an new custom sound chip which can produce a rich plurality of sounds with minimal intervention of the CPU.
Courtney implements 2 operating modes.

A native mode which features wavetable synthesis, the same sound technology of the Konami SCC, Namco Pac-Man, NEC PC Engine and Waldorf PPG Wave.
And a legacy mode which is 100% compatible with the AY-3-8913.

Courtney's register-based interface is based on the AY-3-891x series, allowing direct binary-level compatibility with that series, and facilitating the support of the new features to the programmer.

Native mode also adds extended parameter ranges such as full 8-bit noise frequency for more dramatic explosions.
Stereo positioning and a direct DAC mode, allowing clean, single channel 8-bit PCM sample replay without having to combine all 3 channels in a complex manner.

The native mode also allows better lo-fi speech synthesis and digital audio using technologies such as Wyz's ISR sample replay by employing pure harmonic-free sine waves instead of square waves.



Special Features:

F18A Video Enhanced Compatibility built-in, a value in itself for about $ 86,-
Original-style ColecoVision (DB-9) Controller Ports.
Original Colecovision Cartridge Port.
Original-style SNES/SFC Controller Port for even more controller compatiblity! (NTT Data compatible).
SD card firmware updating via the SD card slot.
Loading ROM files off the SD card is available.
PS2 Keyboard input.


Other Features:

Open Source.
At least 10 digital Homebrew games included.
Very nice development tools included for programmers.


Includes:

1 CollectorVision Phoenix Video Game System™


1 Sydney Hunter & the Caverns of Death, Exclusive pack-in Game cartridge, value $ 50,-

1 Instruction Phoenix Video Game Manual.
1 Instruction Game Cartridge Manual.
1 HDMI Cable.
1 Worldwide USB Power Supply: 110-240v, 50/60hz, USA/JPN/EU plug-type.
No Controllers included.
CollectorVision Games prefer to focus first and foremost on the console itself and make it completely right.
Although the console is already compatible with original ColecoVision controllers, NTT and any DB-9 Controllers out there.



Expansion Module Port:

A variety of expansion modules will be released after console launch, which will including a brand new Spinner Controller and new designed hand Controllers.
More information on these will be provided later.

Target price is $ 200,-
CollectorVision Games understand it may not be for everyone out there, they also think there's more than enough ColecoVision fans out there willing to make a project like this to happen.
CollectorVision Games knows the potential and need for a console like this to happen.
Not mentionning how poor and unreliable the original ColecoVision console is.
It would most likely going to cost you about $ 300,- to get similar results compared to the CollectorVision Phoenix Video Game System, and that doesn't even make your system 100% reliable.

---===---

The CollectorVision Phoenix Video Game System is made and manufactured by: CollectorVision Games Inc. U.S.A. / Canada.
The Super Game Module™ and Logo is a trademark of Opcode Games and used under license to CollectorVision Games Inc.

The CollectorVision Phoenix Video Game System is developed by Brian Burney in cooperation with: CollectorVision Games Inc.
CollectorVision Games Inc. supports the former toy giant Coleco Industries, and is in no way affiliated with the Trademark owner.

© 2016 - 2018 CollectorVision Games Inc.


"For use only with Phoenix Video Game System."
Detailed documents and instructions will be available later for developers.
Functionality will also be added to the Lilith Emulator.

Release:

More details will be revealed with the Kickstarter launch later in 2018.

Phoenix will be released before Prometheus Lite.

If you don't want to wait for the Kickstarter program to start then sign up now for early access here.
The money for early access orders and Kickstarter orders is going together. The Kickstarter goal will have the early access orders taken into account.
Officially announced by: CollectorVision Games, and reproduced by ColecoVision.dk from 2016 to 2018.
Last updated:

September 16, 2018.
September 09, 2018.
August 18, 2018.
August 15, 2018.
August 12, 2018.
August 06, 2018.
August 05, 2018.