Scott Huggins is/was a fantastic good programmer for ColecoVision.
The first Huggins game I've heard about, was a conversion of the well known Phoenix, a shooter game licensed by Centuri back in 1980.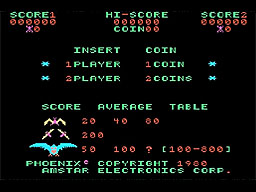 Scott tried his hand at Phoenix, and he had a playable WIP version for the CV back in 2003.
He made around 60% code, but he could not handle it.
Maybe it's a job for a programmer out there to finish.
We hardly need this game for our collection.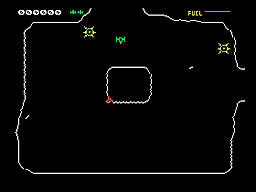 Then the Space Caverns from 2004 for ColecoVision.
After Space Caverns was it this game: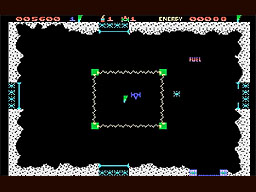 Capture The Flag from 2005.

In 2005 came also this CV version of Astro Invader from Stern.
It's a fine translation, but it's also a hard shooter game.
Astro Invader was released in May, 2005, and It's still available complete in box from AtariAge Store to this day.
Astro Invader sold well over 300 copies.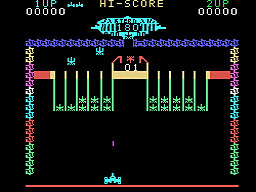 Astro Invader from Stern, ColecoVision version, 2005.

Scott has also in 2006 completed Spectar, a unreleased game from Coleco's catalog.
But the first homebrew version was from Daniel Bienvenu and called Spectank.
About those two have worked together with the code, I do not know.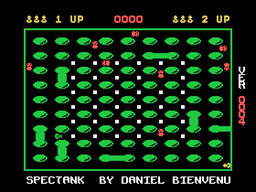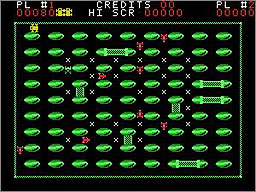 First version by Daniel: Spectank and the second version by Scott is: Spectar.

Scott and his friend Joe completed then Terra Attack for ColecoVision, a nice space-shooter.

ColecoVision Terra Attack from 2007.

Then was it Beyond Terra also in 2007.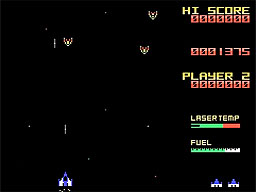 Beyond Terra could be released someday, who knows.
Now is Scott and Joe went Bezerk.
They make Frantic, a kind of Frenzy, but more playable.
Frantic is a totally new game, and they made it up from the scratch with a brand new code.
But the sound is (as in the other Huggins games) taken from other well-known ColecoVision games.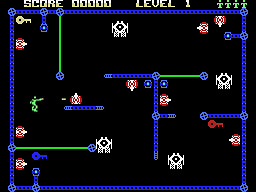 Frantic! for ColecoVision.

Scott Huggins and his friend Joe Kollar did not finished Frantic nor even Phoenix.
Scott has run tired, and did not work with games for over 5 years now.
His feelings for Frantic and Phoenix is not like it was in the beginning.
Also 2 kids takes time, but he follow the homebrew scene closely.
About Frantic and Phoenix ever will be ready to be launched is not known.

To get in touch with Huggins, try this: e-mail.
Last updated: April 10, 2016.