Game Name: Penguin Land
Genre: Puzzle
Rarity Loose: Common, Uncommon, Rare, Extremly Rare, Prototype
Rarity Complete In Box: Common, Uncommon, Rare, Extremly Rare, Prototype
Value Traded from around: xx to xxx U.S. $
Arcade Related: Yes, but only in Japan
Year of Its Original Release: 1985
Initially
© and Licenses: Sega Enterprises Inc., Pony Canyon, Inc.

Original Programmer and/or Designer:
Unknown, Sega Enterprises Inc.
ColecoVision Game Programmed by:
Steve Bégin 2003, 2010
ColecoVision Sound Programmed by:
Tohru Nakabayashi
ColecoVision Sound Output: SN 76489AN / AY-3-8910A / Compatible
ColecoVision Graphics Programmed by:
Sega Enterprises Inc.
Color Compatibility: No
Original and Other Platforms besides This:
Arcade JP, Sega SG-1000 JP, SMS, Mega Drive, Saturn, MSX.
This Platform: ColecoVision & ADAM Family Computer or Compatible Systems
ColecoVision PCB Size, Type and Producent: 32kb., Harvey deKleine, Harvey deKleine
ColecoVision Product #: CV 06 / 9996
Free Digital Downdload Possible: No
Sound Test or Ringtone Possible: No
ColecoVision Cartridge #, Casing and Producent: CV 06, Standard U.S.Light Blue or Black Style, Moldex Canada.
ColecoVision Label Art and Design by: Sega Enterprises, Luc Miron
ColecoVision Manual Layout and Design by: Mike Dullum
ColecoVision Manual # and Manufacturer: None, CollectorVision Games Canada
ColecoVision Box Art and Design by: Sega Enterprises, Luc Miron, CollectorVision Games
ColecoVision Box # and Manufacturer: CV 06, CollectorVision Games Canada
Number of Players: 2
Required: ColecoVision or any Compatible System + Controllers
Overlay: No
Publisher and Year: CollectorVision Games, April 2010
ColecoVision.dk Game #: 75

Purchased:
September 29, 2009
Arrived:
March 17, 2010
High Score / Save Game Feature: Yes / No
Pause Feature:
Yes, press:


More on Wikipedia regarding this ColecoVision version: No

Note: Light Blue Cartridge is Collectors Edition
x
Cartridge Top
Box Front
Box Side
Box Back
Manual Front
Manual Back
Cartridge Front
Cartridge Bottom
Cartridge Back
Description:
Scene select from 1 to 25.
Life in Antarctica is crazier than ever !.
Polar bears have taken over Penguin Land, and Mister Penguin must move his eggs to his secret hideout deep within the ice caverns below.
But the polar bears have discovered these caves and are now roaming everywhere !.
Guide Mister Penguin as he pushes his egg carefully down the platforms, breaking ice blocks and pushing boulders along the way.
Be careful ! The egg will break if it falls from too high, or if other animals touch it !.
Can Mister Penguin protect his egg long enough to be reunited with his wife who is waiting for him down below ?.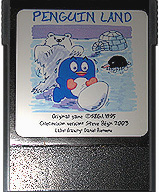 This is a very rare version.
Steve Bégins 1. ColecoVision edition from 2003.
Artwork by: Daniel Bienvenu.
ColecoVision High Score For Penguin Land:
XName:
XName:
XName: Ole Nielsen.

XScore: 0 -
XScore: 0 -
XScore: 3.410 - March 22, 2010.