Game Name: Track & Field 1 also known as Hyper Sport and Hyper Olympic
Genre: Sport
Rarity Loose: Common, Uncommon, Rare, Extremly Rare, Prototype
Rarity Complete In Box: Common, Uncommon, Rare, Extremly Rare, Prototype
Value Traded from around: 50 to xxx U.S. $
Arcade Related: Yes
Year of Its Original Release: 1983/84
Initially
© and Licenses: Konami Industry Co., Ltd., Centuri Inc.

Original Programmer and/or Designer:
Unknown, Konami
ColecoVision Game Programmed by:
Konami, Eduardo Mello Opcode Games
ColecoVision Sound Programmed by:
Konami, Eduardo Mello
ColecoVision Sound Output: SN 76489AN / AY-3-8910A / Compatible
ColecoVision Graphics Programmed by:
Konami, Eduardo Mello
Color Compatibility: No
Original and Other Platforms besides This:
Arcade, ZX Spectrum, Amstrad CPC, Nintendo, Atari, CBM, MSX, Sharp X1, Xbox
This Platform: ColecoVision & ADAM Family Computer or Compatible Systems
ColecoVision PCB Size, Type and Producent: 17kb., Team Pixelboy, Team Pixelboy
ColecoVision Product #: None
Free Digital Downdload Possible from Author: Yes


Sound Test or Ringtone Possible: No
ColecoVision Cartridge #, Casing and Producent: None, Standard Black Activision Style

, made in

Taiwan

for

Telegames
ColecoVision Label Art and Design by: Konami, Luc Miron
ColecoVision Manual Layout and Design by: Luc Miron, Dale Crum
ColecoVision Manual # and Manufacturer: Revision 1.0, Canada
ColecoVision Box Art and Design by: Konami, Luc Miron
ColecoVision Box # and Manufacturer: None, Canada
Number of Players: 2
Required: ColecoVision or any Compatible System + Controllers
Overlay: No
Publisher and Year: Team Pixelboy, December 2010
ColecoVision.dk Game #: 80
Purchased: December 25, 2010
Arrived: January 26, 2011
High Score / Save Game Feature: Yes / No
Pause Feature: No
More on Wikipedia regarding this ColecoVision version: No
x
Cartridge Top
Box Front
Box Side
Box Back
Manual Front
Manual Back
Cartridge Front
Cartridge Bottom
Cartridge Back
Description:
Challenge the olympic world records!

Athletes from all over the world converge in a single location to proove their worth, in the greatest sports competition of all time:
The olympic games!
In Konami's Track & Field, you can join them and get a nice work-out in the process!

One or two players participate in four time-honored Olympic events: The 100-meter dash, the long jump and the hammer throw and 400 meter dash.

In each event, the player must qualify against a pre-determined time or distance in order to proceed to the next event.
If not, the competition is over.
Can you make your home country proud?.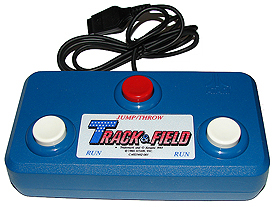 Atari 2600 Track & Field Controller
is fully compatible with ColecoVision.
ColecoVision High Score For Track & Field 1:
XName: Tom Duncan.
XName:
XName: Ole Nielsen.

XScore: 158.600 - February 19, 2011.
XScore: 0 -
XScore: Not qualified.