Game Name: Jungle Hunt
Genre: Platform
Platform: ColecoVision
Has a newer ColecoVision version of this game been released: No
Other Platform releases besides this: Arcade, Apple II, Atari, CBM, IBM, MSX, PS2, TI-99/4A, Xbox
Rarity, Loose Cartridge: Common, Uncommon, Rare, Extremly Rare, Unbelievably Rare
Rarity, Complete In Box, Used: Common, Uncommon, Rare, Extremly Rare, Unbelievably Rare
Rarity, New In Box: Common, Uncommon, Rare, Extremly Rare, Unbelievably Rare
The displayed version: Original, Homebrew, Reproduction, Prototype
Value Traded from around: 35 to 400 U.S. $
Arcade Related ColecoVision Game: Yes
Year of Its Original Release: 1982
Initially © and Licenses: Taito Of America, Warner, AtariSoft California
Based On or similarly with: Arcade Jungle Hunt
Originally First Developed by: Taito Of America
Original Programmed and / or Designed by: Unknown, Taito Of America
Original SFX Programmed and / or Composed by: Taito Of America
ColecoVision Game Version Programmed by: Dave Cartt, AtariSoft
ColecoVision GFX Programmer and / or Designer: AtariSoft
ColecoVision SFX Programmer and / or Designer: AtariSoft
Sound Output Via: SN 76489AN / AY-3-8910A / WSG 7264 / Compatible
Different Colors for ColecoVision Compared to The Original, In This Case: The Arcade Version: Yes
Expanded Color Palette for ColecoVision in addition to ColecoVision's Permanent 16 Colors: No
Number of Screenshots Provided by: ColecoVision.dk (11) / Internet (3), and edited by: ColecoVision.dk
Working On Following Compatible Hardware Systems: ColecoVision - Phoenix VGS / PX - ADAM Family Computer System - Z3K* - Dina / Bit 7200 - HB Vision* - Bit 90* - Onyx* - SpliceVision*
Working On Following Compatible Hardware Systems With Expansion: ColecoVision - ADAM Family Computer System - SpectraVideo 318* - Hanimex Pencil II* - Laser 2001* - Salora Manager*
Working On Following Compatible Emulators: ColEM - CoolCV - BlueMSX - Meka - Mess* - Bee* - Argon*
ColecoVision PCB Size, Type and Producent: 24kb., AtariSoft, AtariSoft
ColecoVision Product #: 70007
Freely Available Download Of Game: Yes


Freely Available Download Of Manual: Yes


Sound Test or Ringtone Possible: Not At The Moment
ColecoVision Cartridge and Label #, Casing and Producent: None, Standard Black AtariSoft Style, AtariSoft
ColecoVision Label Art, Design and manufacturer by: AtariSoft
ColecoVision Manual Layout and Design by: AtariSoft
ColecoVision Manual # and Manufacturer: None, AtariSoft U.S.A.
ColecoVision Box Shown, Box Art and Design by: AtariSoft Version, Unknown, AtariSoft
ColecoVision Box # and Manufacturer: 77000 70007, AtariSoft U.S.A.
Number of Players: 1 or 2
Required: ColecoVision, Phoenix VGS or any other Compatible System + Compatible Controller(s)
ColecoVision Overlay: Original: No, Aftermarket: No
ColecoVision Trading Card Available: Yes, Via: Team Pixelboy
Publisher and Year: AtariSoft, California 1983
ColecoVision.dk Game #: 35
Purchased: February 21, 2005
Arrived: March 2005
Score Displayed after completion: Yes, High Score resets with New game started: No
Instant Save Game Feature: No, Password System: No
In-game Pause Feature: Yes, Press: " # "
* Not Confirmed
x
Box Top
Cartridge Top
Box Front
Box Left
Box Right
Box Bottom
Box Back
Manual Front
Manual Back
Cartridge Front
Cartridge Bottom
Cartridge
Side
Cartridge Back
| | | | | | | |
| --- | --- | --- | --- | --- | --- | --- |
| | | | | | | |
| | | | | | | |
| | | | | | | |
| | | | | | | |
Description:
Rumbling rhinos !.
You and your traveling companion were enjoying a leisurely jungle safari, when suddenly you were accosted by two savage cannibals !.
And now they've spirited away your lady freind, and plan to cook her up for supper.
You'd better rescue her quickly, or your sweetie will soon be stew !.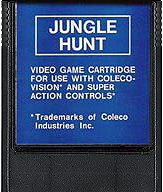 The game above is a later version.
After the U.S. video game crash in 1984 was it Telegames in U.S. and U.K. there was the new distributor for the game.
The sticker was removed and a new one was applied.

High Score For The ColecoVision Version Of: Jungle Hunt, Skill Level: Easy. ▼
XName: Tom Duncan.
XName: Northcoastgamer.
Name: Ole Nielsen.
Name:
1st
XScore: 70.500 - February 16, 2005.
1st
XScore: 63.200 - November 03, 2015.
1st
XScore: 19.810 - January 08, 2015.
1st
XScore:
XName: Michael Ryan.
XName: TPR.
Name: Ole Nielsen.
Name:
2nd
XScore: 60.960 - June 11, 2004.
2nd
XScore: 57.630 - October 25, 2015.
2nd
XScore: 19.060 - September 26, 2008.
2nd
XScore:
XName: Troy Whelan.
XName: sega_SHARK.
Name: Ole Nielsen.
Name:
3rd
XScore: 39.400 - March 05, 2004.
3rd
XScore: 39.380 - November 08, 2015.
3rd
XScore: 18.920 - January 31, 2010.
3rd
XScore:
XName: Curtis Hepworth.
XName: darthkur.
Name: Ole Nielsen.
Name:
4th
XScore: 35.090 - June 11, 2004.
4th
XScore: 36.390 - October 27, 2015.
4th
XScore: 18.470 - April 05, 2007.
4th
XScore:


ColecoVision / Phoenix VGS Platform.
High Score last updated: April 13, 2020.


ColecoVision / Phoenix VGS Platform.
High Score last updated: April 13, 2020.





ColecoVision / Phoenix VGS Platform.
High Score last updated:
High Score For The ColecoVision Version Of: Game Name, Skill level: 2. ▼
XName: Tom Duncan.
XName: gamecat80.
Name: Ole Nielsen.
Name:
1st
XScore: 43.140 - February 16, 2005.
1st
XScore: 45.720 - September 21, 2013.
1st
XScore:
1st
XScore:
XName: Troy Whelan.
XName: patbb.
Name: Ole Nielsen.
Name:
2nd
XScore: 16.800 - March 09, 2005.
2nd
XScore: 44.320 - March 31, 2011.
2nd
XScore:
2nd
XScore:
XName:
XName: CoLethalVision.
Name: Ole Nielsen.
Name:
3rd
XScore:
3rd
XScore: 42.020 - September 19, 2013.
3rd
XScore:
3rd
XScore:
XName:
XName: gamecat80.
Name: Ole Nielsen.
Name:
4th
XScore:
4th
XScore: 34.720 - September 12, 2013.
4th
XScore:
4th
XScore:


ColecoVision / Phoenix VGS Platform.
High Score last updated: April 13, 2020.


ColecoVision / Phoenix VGS Platform.
High Score last updated: April 13, 2020.


ColecoVision / Phoenix VGS Platform.
High Score last updated:


ColecoVision / Phoenix VGS Platform.
High Score last updated:
High Score For The ColecoVision Version Of: Game Name, Skill level: 3. ▼
XName: Tom Duncan.
XName:
Name: Ole Nielsen.
Name:
1st
XScore: 27.850 - February 16, 2005.
1st
XScore:
1st
XScore:
1st
XScore:
XName: Troy Whelan.
XName:
Name: Ole Nielsen.
Name:
2nd
XScore: 11.900 - March 09, 2005.
2nd
XScore:
2nd
XScore:
2nd
XScore:
XName:
XName:
Name: Ole Nielsen.
Name:
3rd
XScore:
3rd
XScore:
3rd
XScore:
3rd
XScore:
XName:
XName:
Name: Ole Nielsen.
Name:
4th
XScore:
4th
XScore:
4th
XScore:
4th
XScore:


ColecoVision / Phoenix VGS Platform.
High Score last updated: April 13, 2020.


ColecoVision / Phoenix VGS Platform.
High Score last updated:


ColecoVision / Phoenix VGS Platform.
High Score last updated:


ColecoVision / Phoenix VGS Platform.
High Score last updated:
ColecoVision.dk Game # 35, Jungle Hunt was last updated on: October 02, 2022.
Please report errors regarding this ColecoVision game.
Sheet # 83x3