If you were an employer at Coleco Industries back in the beginning of 1982.
You could be lucky to be the very first to test Coleco's, at that time new product, namly a ColecoVision.
Coleco Inc. games division for development of Consoles and games, had in 1982 a new "baby" ready for the market.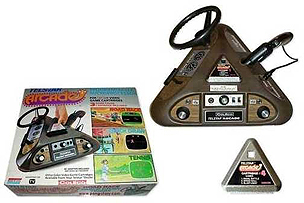 Coleco had their cartridge based Telstar Arcade with light gun and steering wheel, but wanted to get stronger in the market for videogames.
Atari 2600 VCS had the strongest market, and was leading, no others like Philips / Odyssey and Mattel could reach them.
So in 1979 began Eric Bromley at Coleco together with others to develop a cartridge-based machine with an well known technic at the time.
Z80 as the CPU, TMS 9918/28/29 as the Graphic prossesor and SN76489 as the Sound chip.
TMS 9918 for the first consoles in 1982, and already a year later in 1983 was it TMS 9928 / 29.
After around 3 years, late in 1981 was the environment around the circuit board finished, and it was not without troubles.
A company near Chicago took care of it, and they decided along with Coleco to not include the Speed Roller in Coleco's Joypad.
It was a bad idea that would not work properly as intended.
In the beginning of 1982 was the device ready for a test.
Around 9 new games was developed for the machine, now named ColecoVision.
Few selected employees were each given a purple box to take home to their familys.
After around 6 months testing was ColecoVision born and ready to "take" the market.
Cosmic Avenger was the first developed game, but Donkey Kong was a smash hit and was the pack in game.
Here is the prototyped box that is extremely rare to pick up today.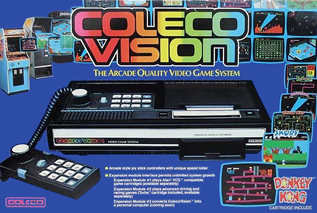 The prototyped box is purple while the official box is gray.
The purple box was for selected employees who were interested in testing the new ColecoVision for Coleco Industries before it could be sold in public.
The showed box above is recreated by ColecoVision.dk
There is for now only 2 existing purple boxes.
Both was for sale on ebay, the first in March 2011, and the next one in May 2016.
The first one was sold for: $ 1.225,- and this was a complete system.
It was previously owned by Ex-Coleco Employee Elizabeth W. Sydor, who passed away in January of 2010.
Here are a video of the system.
And the second one was sold for $ 1.878,- including a complete original prototyped ColecoVision with one game, namely Venture.
It was owned by a former Coleco executive, Dexter Liu. He was a Director of Product Development for Coleco from 1982-1986.
This ColecoVision is documented with Serial # P 0000327
The main circuit board had a short time, and we're talking few months, several revisions.
10 times, has the circuit board been revised from the first A to J.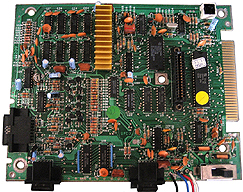 A, C, D, E, F, H, H2 and J. --B and G is not known.
The shown ColecoVision board is the French RGB Scart Version.