Game Name: Arkanoid
Genre: Breakout
Platform: ColecoVision
Has a newer ColecoVision version of this game been released: No
Other Platform releases besides this: Arcade and all popular Consoles and 8 bit computers
Rarity, Loose Cartridge: Common, Uncommon, Rare, Extremly Rare, Unbelievably Rare
Rarity, Complete In Box, Used: Common, Uncommon, Rare, Extremly Rare, Unbelievably Rare
Rarity, New In Box: Common, Uncommon, Rare, Extremly Rare, Unbelievably Rare
The displayed version: Original, Homebrew, Reproduction, Prototype
Value Traded from around: 60 to 75 U.S. $
Arcade Related ColecoVision Game: Yes
Year of Its Original Release: 1986
Initially © and Licenses: Taito Corporation
Based On or similarly with: MSX Arkanoid
Originally First Developed by: Taito Corporation
Original Programmed and / or Designed by: Akira Fujita
Original SFX Programmed and / or Composed by: Hisayoshi Ogura
ColecoVision Game Version Programmed by: Unknown
ColecoVision GFX Programmer and / or Designer: Imagine Software, MSX
ColecoVision SFX Programmer and / or Designer: Imagine Software, MSX
Sound Output Via: SN 76489AN / AY-3-8910A / WSG 7264 / Compatible
Different Colors for ColecoVision Compared to The Original, In This Case: The MSX Version: No
Expanded Color Palette for ColecoVision in addition to ColecoVision's Permanent 16 Colors: No
Number of Screenshots Provided by: ColecoVision.dk (14) / CollectorVision Games (0), and edited by: ColecoVision.dk
Working On Following Compatible Hardware Systems: ColecoVision - Phoenix VGS / PX - ADAM Family Computer System - Z3K* - Dina / Bit 7200* - HB Vision* - Bit 90* - Onyx* - SpliceVision*
Working On Following Compatible Hardware Systems With Expansion: ColecoVision - ADAM Family Computer System - SpectraVideo 318* - Hanimex Pencil II* - Laser 2001* - Salora Manager*
Working On Following Compatible Emulators: ColEM - CoolCV - BlueMSX - Meka - Mess* - Bee* - Argon*
ColecoVision PCB Size, Type and Producent: 32 kb., Version 1.0, Harvey deKleine
ColecoVision Product #: 3606
Freely Available Download Of Game: No, Only For Paying Customers
Freely Available Download Of Manual: No
Sound Test or Ringtone Possible: Not At The Moment
ColecoVision Cartridge and Label #, Casing and Producent: None, Standard Black U.S. Style, Moldex Canada.
ColecoVision Label Art, Design and manufacturer by: Unknown
ColecoVision Manual Layout and Design by: Vincent Godefroy
ColecoVision Manual # and Manufacturer: 099122, Unknown
ColecoVision Box Shown, Box Art and Design by: CollectorVision Games U.S. Version, Vincent Godefroy
ColecoVision Box # and Manufacturer: 3606, CollectorVision Games Canada
Number of Players: 1
Required: ColecoVision + Super Game Module 1** or Super Game Module 2***, Phoenix VGS or any other Compatible System + Compatible Controller(s)
ColecoVision Overlay: Original: No, Aftermarket: No
ColecoVision Trading Card Available: Yes, Via: Team Pixelboy
Publisher and Year: CollectorVision Games, December 2018
ColecoVision.dk Game #: 159
Purchased: January 01, 2018
Arrived: April 19, 2018
High Score Displayed after completion: Yes, High Score resets with New game started: No
Instant Save Game Feature: No, Password System for upload: No
In-game Pause Feature: Yes, press:


* Not Confirmed
**The Super Game Module 1 is not used when using the Phoenix Video Game System
***The Super Game Module 2 is required to achieve full gaming experience together with the original ColecoVision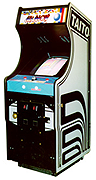 Also for use with
Roller Controller


Also For use with
CollectorVision
Spinner Controller
x
Box Top
Cartridge Top
Box Front
Box Left
Box Right
Box Bottom
Box Back
Manual Front
Manual Back
Cartridge Front
Cartridge Bottom
Cartridge
Side
Cartridge Back
| | | | | | | |
| --- | --- | --- | --- | --- | --- | --- |
| | | | | | | |
| | | | | | | |
| | | | | | | |
| | | | | | | |
Description:
While travelling peacefully through deep space, the mothership Arkanoid was attacked without warning by a space fighter of unknown origin.

Survivors of the incident attempted to flee in a "Vaus" escape pod.
But as soon as it was launched, the Vaus was sucked into a bizarre alternate dimension populated by colored bricks and roaming creatures.
Now you must manoeuver the Vaus as its survival depends on an energy ball that destroys bricks on contact.

Can you survive long enough to discover who is behind this madness. ?
High Score For The ColecoVision Version Of: Arkanoid.

XName:
XName:
Name: Ole Nielsen.
Name:
1st
XScore:
1st
XScore:
1st
XScore: 27.080 - April 28, 2018.
1st
XScore:
XName:
XName:
Name: Ole Nielsen.
Name:
2nd
XScore:
2nd
XScore:
2nd
XScore: 26.200 - April 27, 2018.
2nd
XScore:
XName:
XName:
Name: Ole Nielsen.
Name:
3rd
XScore:
3rd
XScore:
3rd
XScore: 19.300 - April 22, 2018.
3rd
XScore:
XName:
XName:
Name: Ole Nielsen.
Name:
4th
XScore:
4th
XScore:
4th
XScore: 18.330 - April 22, 2018.
4th
XScore:


ColecoVision / Phoenix VGS Platform.
High Score last updated:


ColecoVision / Phoenix VGS Platform.
High Score last updated:


ColecoVision / Phoenix VGS Platform.
High Score last updated: April 28, 2018.


ColecoVision / Phoenix VGS Platform.
High Score last updated:
ColecoVision.dk Game # 159, Arkanoid was last updated on: June 07, 2022.
Please report errors regarding this ColecoVision game.
Sheet # 83x1