X
Game Name: Computer Space
Genre: Shooter
Rarity Loose: Common, Uncommon, Rare, Extremly Rare, Prototype
Rarity Complete In Box: Common, Uncommon, Rare, Extremly Rare, Prototype
Value Traded from around: 150 to 400 U.S. $
Arcade Related: Yes
Year of Its Original Release: 1971
Initially
© and Licenses: Nutting Associates, Atari Corp.

Original Programmer and/or Designer:
Nolan Bushnell, Ted Dabney
Original SFX Programmer:
Keith Erickson
ColecoVision Game Programmed by:
Chris Derrig
ColecoVision GFX Programmed by:
Chris Derrig
ColecoVision SFX Programmed by:
Daniel Bienvenu
ColecoVision Sound Output: SN 76489AN / AY-3-8910A / SEX7264 / Compatible
Changed Color Pattern From The Original Set: Yes
Extended Color Compatibility Besides The ColecoVision 16: No
Screenshots Provided and edited by: ColecoVision.dk, ColecoVision.dk
This Platform: ColecoVision & ADAM Family Computer and other Compatible Systems

Other Platforms Releases besides This:
Arcade and many others
Working On Following Compatible Hardware Systems: ColecoVision, Phoenix, HB Vision
ColecoVision PCB Size, Type and Producent: 32kb., Harvey deKleine, Harvey deKleine
ColecoVision Product #: 9938 Seriel #: 00104 Game #: 9936
Free Digital Download Possible from Author: Yes, Only in connection with the purchase of the game.
Sound Test or Ringtone Possible: No
ColecoVision Cartridge #, Casing and Producent: None, Standard Black U.S. Style, Moldex Canada.
ColecoVision Label Art and Design by: Vincent Godefroy
ColecoVision Manual Layout and Design by: Vincent Godefroy
ColecoVision Manual # and Manufacturer: 099036, Canada
ColecoVision Box Art and Design by: Vincent Godefroy
ColecoVision Box # and Manufacturer: None, Tobie St-aubin Canada
Number of Players: 1 or 2
Required: ColecoVision or any Compatible System + Controllers
Overlay: No
Publisher and Year: CollectorVision Games, February 2014
ColecoVision.dk Game #: 122

Purchased:
December 02, 2013
Arrived:
February 18, 2014
High Score / Save Game Feature: Yes / No
Pause Feature:
Yes, press: "5", unpause, press "Fire"
More on Wikipedia regarding this ColecoVision version: No

This game do also contain a little storybook by: Martin Goldberg
x
Cartridge Top
Box Front
Box Side
Box Back
Manual Front
Manual Back
Cartridge Front
Cartridge Bottom
Cartridge Back
Description:
A simulated space battle that pits computer-guided saucers against a rocketship that you control.
Outscore the saucers with your missiles more time than they hit you for extended play in hyperspace.

ROM file available if you own the game.
Free to use with your emulator or with your Atarimax Ultimate SD cartridge.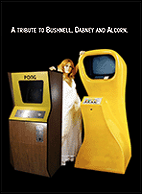 "A Tribute to Bushnell, Dabney and Alcorn"
This Story Book by: Martin Goldberg was included in the boxset.
A little story about Computer Space and Pong.
High Score For The ColecoVision Version Of: Computer Space.
XName:
XName:
Name: Ole Nielsen.

1st
XScore: 0 -
1st
XScore: 0 -
1st
XScore: 24 - August 23, 2015.
Name: Ole Nielsen.
2nd
XScore:
Name: Ole Nielsen.
3rd
XScore:
Name: Ole Nielsen.
4th
XScore: