x
Cartridge Top
Box Front
Box Side
Box Back
Manual Front
Manual Back
Cartridge Front
Cartridge Bottom
Cartridge Back
Donkey Kong was an included game in big parts of countries world wide.
In Denmark, Italy and few other countries was it Mouse Trap.
Description:
Based on the sensational Nintendo arcade game.
CBS Colecovision Donkey Kong features an action-packed rescue adventure of man against ape !.
Donkey Kong has stolen Mario's girlfriend and taken her up to the top of a steel structure.
You move Mario over girders and up ladders.
Leap over tumbling barrels, dodge lethal fireballs and jump onto fastmoving elevators, trying to rescue Mario's girlfriend from Donkey Kong!.
Donkey Kong features three incredible adventures -ramps, rivets and elevators.
Your skill and speed determine your points total.
How high can you score trying to rescue Mario's girlfriend ?.

Special hint for Donkey Kong:
Mario can move twice as fast on the ladders.
Just press your joypad up twice in a row.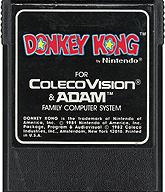 My USA ColecoVision version of Donkey Kong above is the 2nd version, labelled: For ColecoVision & ADAM Family Computer System.
The 1st USA version was just labelled: ColecoVision Prensents.

ColecoVision High Score For Donkey Kong Skill Level 1:
XName: Tom Duncan.
XName: duncantoml.
XName: Ole Nielsen.

XScore: 5.630.200 - October 27, 2004.
XScore: 5.001.500 - February 01, 2008.
XScore: 189.700 - April 02, 1989.