x
Cartridge Top
Box Front
Box Side
Box Back
Manual Front
Manual Back
Cartridge Front
Cartridge Bottom
Cartridge Back
Description:
Three billion miles is a long way from home.
But there's no shorter route from outer Neptune to Earth.
As if that weren't enough...it's got to be a shoot-out all the way.
You alone in your rapid-firing spaceship, swirling in a circular flight pattern orbiting to the right...arcing to the left...
trying to mow down wave after wave of enemy plane formations, rocketing meteors and run away satellites.
Stop's at Uranus, Saturn, Jupiter and Mars will mark your progression towards Earth.
Each one's a short visit, through.
Then it's off again to the next planet-and the next wave of enemies.
Reach Earth in one piece and maybe you'll think twice about leaving home.
Then again...maybe not !.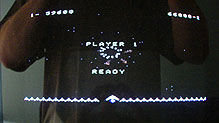 My ColecoVision Gyruss goes crazy, january 2007.!
As seen in the picture above, so Gyruss went berserk one day in January 2007.
One day an unexplained reason attracts the game to eternal life, in 2 player mode.
To play 2 player mode, press the left fire button on Controller 2 in port 2.
Then use Controller 1 in Port 1 in order to control the game.
And that also applies to player 2.
Use the same Controller 1 for both players.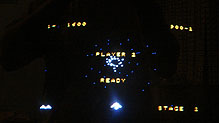 Gyruss in july 2009, a normal 2 player mode.

High Score For The ColecoVision Version Of: Gyruss.
XName: Tom Duncan.
XName: TPR.
Name: Ole Nielsen.

1st
XScore: 291.900 - November 04, 2011.
1st
XScore: 208.300 - February 15, 2016.
1st
XScore: 164.400 - July 16, 2011.
Name: Ole Nielsen.
2nd
XScore: 135.500 - April 01, 2010.
Name: Ole Nielsen.
3rd
XScore: 127.800 - July 09, 2015.
Name: Ole Nielsen.
4th
XScore: 127.600 - April 26, 2015.