x
| | | | | | | | |
| --- | --- | --- | --- | --- | --- | --- | --- |
| | | | | | | | |
| Box Front | Box Side | Box Back | Manual Front | Manual Back | Cartridge Front | Cartridge Top | Cartridge Back |
Description:
Survival is the name of the game in this alien arena!

You are a knight flying on an ostrich, battling buzzard-mounted enemies, you fighting for your life against other vulture-riding gladiators.
And yet, there you are, and your only concern now is survival!
Direct your ostrich around the arena and hit your opponents from above to turn them into eggs you can collect for extra points.
If they hatch before you can grab them, they will come back into the fight stronger than before.
Also watch out for the Pterodactyl who will appear randomly when you least expect it, and avoid the scorching lava pits below.
How long can you last in the Joust ?

Special for ColecoVision Joust: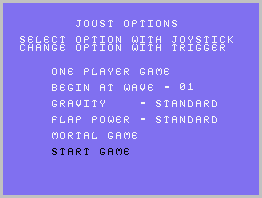 Press # on both controllers at the same time to access Joust Options.

ColecoVision High Score For Joust: "Medium"
XName:
XName:
XName: Ole Nielsen.

XScore: 0 -
XScore: 0 -
XScore: 5.500 - January 10, 2015.