Game Name: Joust
Genre: Action
Rarity Loose: Common, Uncommon, Rare, Extremly Rare, Prototype
Rarity Complete In Box: Common, Uncommon, Rare, Extremly Rare, Prototype
Value Traded from around: 50 to xxx U.S. $
Arcade Related: Yes
Year of Its Original Release: July 16, 1982
Initially
© and Licenses: Williams, AtariSoft, Atari S.A. France

Original Programmer and/or Designer:
John Newcomer, Bill Pfutzenreuter
ColecoVision Game Programmed by:
Mike Hendricks AtariSoft California 1983
ColecoVision Sound Programmed by:
Mystery Man 2014
ColecoVision Sound Output: SN 76489AN / AY-3-8910A / Compatible
ColecoVision Graphics Programmed by:
Mike Hendricks AtariSoft 1983, Mystery Man 2014
Color Compatibility: No
Original and Other Platforms besides This:
Arcade, Atari, Nintendo, Sony, Microsoft
This Platform: ColecoVision & ADAM Family Computer or Compatible Systems
ColecoVision PCB Size, Type and Producent: 32kb., Harvey deKleine, Harvey deKleine
ColecoVision Product #: 7000X, None
Free Digital Downdload Possible: Yes

but with no sound
Sound Test or Ringtone Possible: No
ColecoVision Cartridge #, Casing and Producent: None, Standard Black U.S. Style, Moldex Canada.
ColecoVision Label Art and Design by: Unknown, Luc Miron
ColecoVision Manual Layout and Design by: Dale Crum, Luc Miron
ColecoVision Manual # and Manufacturer: Revision 1.0, Canada
ColecoVision Box Art and Design by: Unknown, Luc Miron
ColecoVision Box # and Manufacturer: None, Oliver Puschatzki Germany
Number of Players: 2
Required: ColecoVision or any Compatible System + Controllers
Overlay: No
Publisher and Year: CGE September 2001 and September 2014, Team Pixelboy November 2014
ColecoVision.dk Game #: 133

Purchased:
November 04, 2014
Arrived:
November 13, 2014
High Score / Save Game Feature: No / No
Pause Feature:
Yes, press:


More on Wikipedia regarding this ColecoVision version: No

Special for this game: Option Screen
x
Cartridge Top
Box Front
Box Side
Box Back
Manual Front
Manual Back
Cartridge Front
Cartridge Bottom
Cartridge Back
Description:
Survival is the name of the game in this alien arena!

You are a knight flying on an ostrich, battling buzzard-mounted enemies, you fighting for your life against other vulture-riding gladiators.
And yet, there you are, and your only concern now is survival!
Direct your ostrich around the arena and hit your opponents from above to turn them into eggs you can collect for extra points.
If they hatch before you can grab them, they will come back into the fight stronger than before.
Also watch out for the Pterodactyl who will appear randomly when you least expect it, and avoid the scorching lava pits below.
How long can you last in the Joust ?

Special for ColecoVision Joust: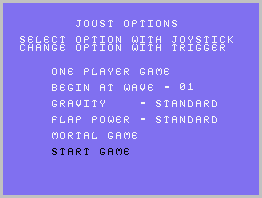 Press # on both controllers at the same time to access Joust Options.

ColecoVision High Score For Joust: "Medium"
XName:
XName:
XName: Ole Nielsen.

XScore: 0 -
XScore: 0 -
XScore: 5.500 - January 10, 2015.