x
| | | | | | | | |
| --- | --- | --- | --- | --- | --- | --- | --- |
| | | | | | | | |
| Box Front | Box Side | Box Back | Manual Front | Manual Back | Cartridge Front | Cartridge Top | Cartridge Back |
Description:
Rumbling rhinos !.
You and your traveling companion were enjoying a leisurely jungle safari, when suddenly you were accosted by two savage cannibals !.
And now they've spirited away your lady freind, and plan to cook her up for supper.
You'd better rescue her quickly, or your sweetie will soon be stew !.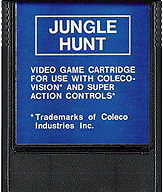 The game above is a later version.
After the U.S. video game crash in 1984 was it Telegames in U.S. and U.K. there was the new distributor for the game.

ColecoVision High Score For Jungle Hunt "Easy":
XName:
XName: Northcoastgamer.
XName: Ole Nielsen.

XScore: 0 -
XScore: 63.200 - November 03, 2015.
XScore: 19.810 - January 08, 2015.