Game Name: Magical Tree
Genre: Platform
Rarity Loose: Common, Uncommon, Rare, Extremly Rare, Prototype
Rarity Complete In Box: Common, Uncommon, Rare, Extremly Rare, Prototype
Value Traded from around: 50 to xxx U.S. $
Arcade Related: No
Year of Its Original Release: 1984
Initially
© and Licenses: Konami Industry Co., Ltd.

Original Programmer and/or Designer:
Unknown
ColecoVision Game Programmed by:
Eduardo Mello, Opcode Games
ColecoVision Sound Programmed by:
Konami, Eduardo Mello
ColecoVision Sound Output: SN 76489AN / AY-3-8910A / Compatible
ColecoVision Graphics Programmed by:
Konami, Eduardo Mello
Color Compatibility: No
Original and Other Platforms besides This: MSX, Wii U, PC
This Platform: ColecoVision & ADAM Family Computer or Compatible Systems
ColecoVision PCB Size, Type and Producent: 32kb., Opcode Games, Opcode Games
ColecoVision Product #: RC 8007
Free Digital Downdload Possible from Author: No
Sound Test or Ringtone Possible: No
ColecoVision Cartridge #, Casing and Producent: RC8007, Standard Black U.S. Style, Opcode Games, Brazil
ColecoVision Label Art and Design by: Dale Crum, Opcode Games
ColecoVision Manual Layout and Design by: Jess Ragan, Dale Crum
ColecoVision Manual # and Manufacturer: Revision. A, Brazil
ColecoVision Box Art and Design by: Konami, Dale Crum
ColecoVision Box # and Manufacturer: 4 12129 78007 5 / RC8007, Jess Ragan
Number of Players: 2
Required: ColecoVision or any Compatible System + Controllers
Overlay: No
Publisher and Year: Opcode Games, January 2006
ColecoVision.dk Game #: 45

Purchased:
March 03, 2007
Arrived:
March 28, 2007
High Score / Save Game Feature: Yes / No
Pause Feature: No
More on Wikipedia regarding this ColecoVision version: No
x
Cartridge Top
Box Front
Box Side
Box Back
Manual Front
Manual Back
Cartridge Front
Cartridge Bottom
Cartridge Back
Magical Tree
Description:
A mysterious castle filled with richesis perched high atop a massive enchanted tree.

Pint-sized hero Apache Kun vows to climb to the top, but the owls and cocoons living in the tree are just determined to protect their home from intruders.
Can Apache Kun outsmart the local wildlife and reach the castle in the sky ?.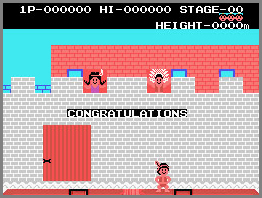 To reach the castle in the treetop, you'll have to climb 2004 meters divided on 9 levels.

ColecoVision High Score For Magical Tree:
XName: Tom Duncan.
XName:
XName: Jesper Nielsen.

XScore: 206.800 - July 19, 2006.
XScore: 0 -
XScore: 100.200 - November 11, 2011.