x
Cartridge Top
Box Front
Box Side
Box Back
Manual Front
Manual Back
Cartridge Front
Cartridge Bottom
Cartridge Back
Description:
"Emergency Nova 1 to Ground Control! I'm the last of the fleet!. They've all gone down!."
"We read you, Nova 1. Are the Capsuled Cities still intact ?."
"Affirmative. But air enemies and Water Walkers are moving in."
"Status of Nova 1. Any Damage ?."
"I can take about six more hits, Ground Control."
"Proceed on course, Nova 1. Save our Capsuled Cities at all costs!. You're our last hope. Over."
"I read you loud and clear, Ground Control. Over and Out."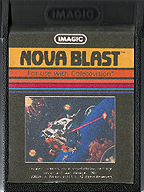 This is a newer label I made for my Nova Blast.
July 2011.

ColecoVision High Score For Nova Blast "Cadet":
XName: James Carter
XName:
XName: Ole Nielsen.

XScore: 66.100 - June 11, 2004.
XScore: 0 -
XScore: 74.900 - May 08, 1986.