x
| | | | | | | | |
| --- | --- | --- | --- | --- | --- | --- | --- |
| | | | | | | | |
| Box Front | Box Side | Box Back | Manual Front | Manual Back | Cartridge Front | Cartridge Top | Cartridge Back |
Description:
Pong is one of the earliest arcade video game ever.
Pong is a 2 dimensional sports game that simulates table tennis.
Each player controls an in-game paddle by moving it vertically across the side of the screen, and competes against another player,
controlling a second paddle on the opposing side.
Players use the paddle to hit a ball back and forth.
The aim is for a player to earn more points than the opponent; points are earned when one fails to return the ball to the other.
This game brings you back to the original look and feel of this historical game, together with a touch of modern variations to enjoy.

ROM file available if you own the game.
Free to use with your emulator or with your Atarimax SD cartridge.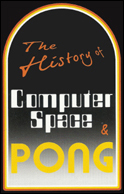 This booklet By: Martin Goldberg was included.
A little story about Computer Space and Pong.
ColecoVision High Score For Pong:
XName:
XName:
XName: Ole Nielsen.

XScore: 0 -
XScore: 0 -
XScore: 0 -