Steve Bégin is also one of the pioneers in programming games for colecovision.
Bégin is located in Québec, Canada.

He love to port Sega SG-1000 versions to ColecoVision.
Some of them is Doki Doki / Penguin Land, and Lode Runner.
Both games is done and sold in a Cartridge for several years ago.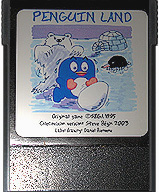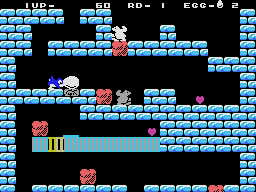 Doki Doki / Penguin Land, the 1st edition from 2003.
Both games is extremly rare in its first edition, and Bégin has decided not to re-release it again in its original version.

Regarding Penguin Land, a conversation between Luc and Bégin was the cause of a new agreement.

Luc from Team Pixelboy contacted then CollectorVision Games to hear about CollectorVision Games would launch the game under their wings

Box and label was already made by: Daniel Bienvenu from the previous release.
It was decided to make a new box with a more realistic cover and a corresponding label.
---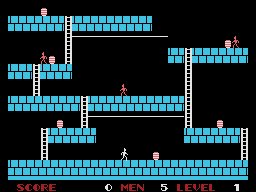 Lode Runner.
Another project from Bégin was Lode Runner, also this game is very hard to find.
A ColecoVision version of Lode Runner in its 1. edition are out there, but i think there was only around 10 or 15 cartridges made.
A re-release of this game was done for colecoVision fans in 2013.
The new version is a mix between the SG-1000 & the C64 version, a complete different game now.
Again, there was made a fantastic deal between Steve, Luc and CollectorVision.
--- = ---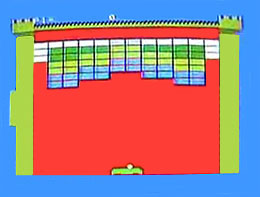 Wizard Siege, a print screen from You-tube.
The picture was in a bad condition, so it's been fixed it a little bit.

Steve made a beta version of this Arkanoid like game.
The development of the game Wizard Siege has been going on since 2001.
The core game is pretty much finished, and the game is 100% playable.
What's missing is adjusting the parameters like the speed of the ball, the time it takes to accelerate, the wizard apparitions frequence, etc.
Bégin Need to add sounds and musics, and a couple of levels.
Wizard Siege has around 20 levels finished, and Steve want to fill the game with so many levels as he can squeeze in.
A release, maybe around 2015.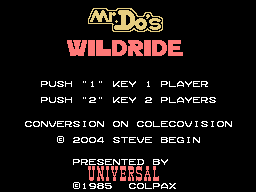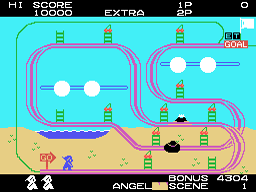 Mr. Do's Wildride by: Steve Bégin.

Mr. Do's Wildride was almost done, but never released.
I have a playable ColecoVision-rom version.
CollectorVision has taken up the game on his long term release list.
Jess Ragan should be the new programmer, but wheither it is Bégin's version or another version to be released is not known.
Bégin had plans for 1 more game, namely Pacar.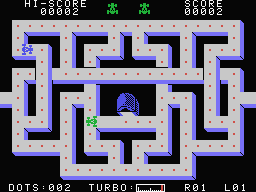 Pacar for ColecoVision.

There are nothing new status about the funny little Pacar game.
CollectorVision Games have a ColecoVision Pacar Rom.
It's playable, but whether the game ever has been fully developed is not known.

Steve Bégin Webpage : xxxxxxx
To get in touch with Mr. Bégin, try this: e-mail