History
Technical
Expansion
ColecoVision
Games Section
High Score List
New Arcade Project
Phoenix Video Game System
Homebrew Scene
Support & Download
Guestbook
News
Links
Contact

Screen: Wide, 16:9, 23,8". Resolution best seen via Computer by 1920 x 1080 or higher. Textsize: 100%.
Optimized for white background.
Not optimized, but work for: iPads, Mobile Phones and some TV and Car browsers.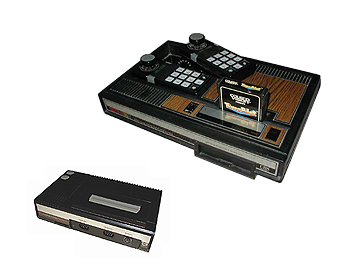 ColecoVision.dk supports the former toy giant from the 80's, Coleco Industries Inc. as a private fansite.
The original COLECO name and the COLECOVISION name refers to the former 80's Toy giant, Coleco Industries.
CBS belongs to Colombia Broadcasting System, Not the newer Copenhagen Business School (CBS).
And certainly not the new Copenhagen Learning Company (Coleco), which both I strongly distance myself from.
The "newer" names "COLECO" and "COLECOVISION" in Eurostile font belongs to River West Brands.
The site ColecoVision.dk have the rights to use and show its own material and what you send to ColecoVision.dk
ColecoVision.dk produces about 80% of all game screenshots and subsequently processes them.
You can use the pictures and links if you specify the source, just do not violate the trademarks.
Thank you to all respective owners for Fair use of pictures and brands with your kind permission.
ColecoVision.dk is aware of use of accessible and public photos on the Internet worldwide.
This also applies to images used here at ColecoVision.dk that is believed used unauthorized.
ColecoVision.dk trying as far as is possible to obtain rights for use of images and trademarks.
Colecovision.dk is trying to unite people and work with the community on different sides.
This ColecoVision fansite is about the former ColecoVision video game console and its related.
But also the good old ADAM, The Family Computer System.
You can safely contact ColecoVision.dk with everything that is relevant, tests, Images, reviews, gifts, homebrews, etc.
ColecoVision.dk is a friendly site, built with retro respect, and for Fair Use.
"Fair Use is consistent with the more limited protection granted to trademarks,
generally specific only to the particular product market and geographic area of the trademark owner."
Denmark 1996-2023 Ten-Four Service Production.