Nicolas Campion is 37 and live in Vichy, France.

Colecovision was his first experience with videogame.
Nicolas was 4 when he discovered the world with Donkey Kong.

Nicolas saw some people programming new games for old systems, this activity gave him motivation to create his own games.
Nicolas discovered that Mario Brothers conversion has been programmed in C language, so he decided to take an interest about Colecovision programming.
Nicolas first program was Robobug. It's more an interactive demo than a game.
Nicolas decided to start with a cheap program in order to learn the basic concepts of programming, and use of graphics and sound tools created by Daniel Bienvenu.


Nicolas first serious project is Bugs 'n Bots, a platformer game.
Originally, this game should be a conversion from the Spectrum of Chuckie Egg, a game created by AnF Software.
However, behind some points and after noticed many games for this console are conversions of MSX games, decide Nicolas to keep the gameplay and add his own ideas.
This game was the opportunity to discover Colecovision's capacities and limits, and imagine new and advanced programming hints.
Bugs'N Bots was available via Collectorvision in December 2012.


Nicolas's second game, PV2000.
PV2000 is only a game for fun: this a conversion of an unknown game available for Thomson, a French computer.
Nicolas programmed this game because synopsis game made him laugh: you guide a policeman round in order to give fines to cars and avoid others cars which try to run over him.
Moreover, when Nicolas played it, he discovered that the game programming was very simple.
So it took him only one week to port it, especially as he had not need to use sprites.


Mindwalls is a breakout clone inspired by Arkanoid.
Mindwalls was released in cartridge format via CollectorVision Games in 2013.
| | | |
| --- | --- | --- |
| | | |
| Star Jump | Haunted Caves | Quatre |
Star Jump, Haunted Caves and Quatre was never released in cartridge format.
Nicolas has made the 3 games freely available via download.
Newest game for ColecoVision is: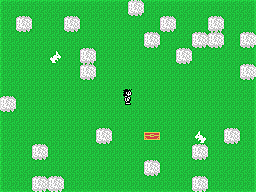 Knight Quest
Khight Quest is the prototyped version for the final version of the game: "So you want to be a Knight ?"
This game will be for sale complete in box through CollectorVision Games later in 2015.

Webpage : nicamshilova
Youtube channel: NicamShilova
To get in touch with Nicolas Campion, try this: e-mail
Last updated: March 21, 2015