Did you know: The original CV prototype had a lot more RAM. ?
Get the answer via Opcode Super Game Club.
After the launch of the new Super Game Module will a new ColecoVision Club be reborn.
It will be Graziele at Opcode Games that will be behind the new ColecoVision Club.
But also Brett Weiss as the Editor-in-Chief of the OpcodeVisions magazine.
With the OpcodeVisions magazine you'll get advanced previews on new ColecoVision Super Games.
Exclusive feature articles and interviews, and announcements for contests and tournaments only for club members.
The Opcode Super Game Club member will receive the Opcode news via mail.
Members are eligible to receive exclusive versions of the Premium line games when they buy them.
Those exclusive versions include in-game content not available in the regular sales version.


It will be such that all who buy new games from Opcode Games will receive a PIN-code.
That PIN-code is for later use with Super Games.

The first game released with this code was Pac-Man Collection in 2009.
The next game with such a code might possibly be DKA which might be around spring this year 2021.

So keep your code safe it will undoubtedly be used for some of the upcoming games from Opcode Games.

Note: The PIN code is probably taken out and will probably not be used anyway.
A reason to be a member is that Opcode Games will release updated game versions as a Club exclusive.
So the only way to get the games is by becoming a member of the Opcode Super Game Club.
Opcode prizes for members are ready, and a selection of mini posters of existing Opcode games, with more to come.
Game related merchandise will be produced in the future.
Opcode has also in a way partnered with Phil Boland to have an exclusive set of trading cards based on existing and future Opcode games produced.
The cards will be club exclusive.

The club is more ready than ever before, Super Game Club subscribers can't be wrong.
This is what you will receive in your welcome Kit: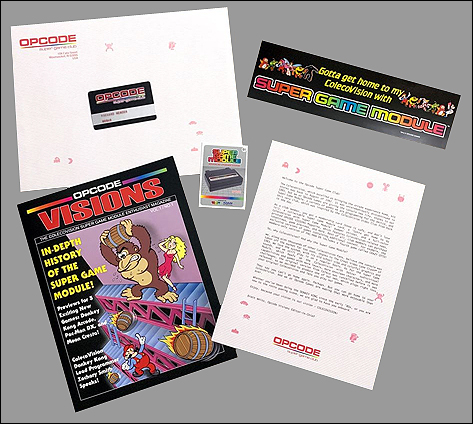 Game bonus content:
There are no games included with this membership, but when you buy a least 1 of your 3 premium games as a member will you have:
In-game exclusive content plus a Collectible Game Card.
Opcode Games arenít sending out confirmations, although you should have gotten a confirmation from PayPal.
However Opcode Games will taking contact to you requesting your address plus a name as you wish it to appear on your member card.
To become a member of the club, please send following information to support@opcodegames.com
F.A.Q.
Q
A

How much does one Opcode Super Game Club membership cost ?
Each membership costs US $20 (US), US $22 (Canada), US $25 (For other countries).
You can purchase as many memberships as you want. Shipping included.

Q
A
For how long is a membership valid ?
It's valid for the next 3 Premium line games Opcode Games released AFTER you buy your membership.

Q
A
Will I only receive my Welcome Kit if I buy the games ?
No, you will receive your Welcome Kit as soon as all the items come from the printer, and they will be shipped to your mailing address.
When and if you buy the games, the respective collectible card will be included inside the game box.

Q
A
Which games will be part of my membership ?
While Opcode Games can always share tentative release schedule, the actual release dates are always subject to changes, and thus Opcode Games can not guarantee which three games will fall under your membership.
Opcode Games' current tentative schedule is: DKA, PMC DX, Moon Cresta / Eagle, and Gradius.

Q
A
Do the membership include copies of the games too ?
No. The membership includes the right to have the exclusive "for members only" version of the 3 first Premium line games that falls under your membership.
Games are sold separately.

Q
A
What if I don't buy any of the games ?
Your membership expires 6 months after the 3rd Premium Line game of your membership releases or while stocks last.
So please plan ahead accordingly.

Q
A
What if I buy the membership and buy all 3 games ?
Then you will be taking the most advantage of your membership.
You receive the welcome kit + the exclusive version of all 3 games + 3 collectible cards.

Q
A
What will be the exclusive "for members only" content in each game ?
Every exclusive content will be announced close to the respective game release.

Q
A
Can I buy the membership and transfer it to someone else or cancel it ?
The Club membership is nontransferable and cannot be canceled, which means, no partial refunds.

Q
A
How will I receive all the Club items ?
The welcome kit will be shipped to your mailing address and the game perks goes exclusively with the respective copy of each game.

Q
A
Can I buy an item of the Club separately ?
No. All the items are exclusive for members. But you can buy as many memberships as you want though.

Q
A
When can I expect to hear about which tier the club will operating under during this first run ?
Opcode Games will announce the final tier when it is time to print everything.
Members will receive a newsletter with detailed information on items you can expect to receive.

Q
A

Will the OpcodeVisions Club Magazine be published on paper or an online version ?
The plan is the club magazine will be printed.
Q
A

Will there still be an updated SIC DX in SGM edition with better sound ?
Yes, Opcode Games is still planning an updated version for 2021, better sound and all.


Last updated:
February 06, 2021.
October 13, 2020.
September 15, 2020.
July 25, 2020.
June 21, 2020.
June 11, 2014.