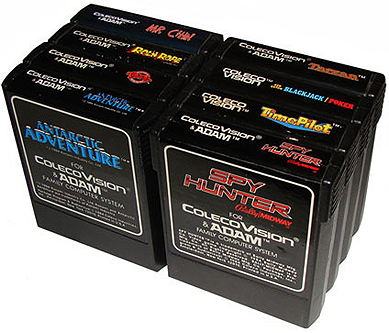 Almost all ColecoVision Games Releases.

Criteria:

Games released for The ColecoVision Video Game System as either Cartridge or just ROM format.
Almost all Officially, Homebrews, Collections and Double Enders reported.
There is now over 670 registered ColecoVision games in the list above.
There is at least 7 Secret Games that is not listed, they are made to the site, but not uploaded until otherwise announced.
| | |
| --- | --- |
| | ColecoVision Game pages that will be updated from sheet # 88 with the latest sheet # 93. |
| | ColecoVision Game pages that needs to be updated from scratch. |
| | ColecoVision Game pages that is either waporware, not released yet or has other reasons. |
More than one game in a single cartridge counts as one game.
Other ColecoVision Cartridges / None Games.
These cartridges above are not presented in the collection.
CV Drum
CV Synth
Super Action Controller Test Cart
The Scetch Pad
The Final Test Cartridge
SG-1000 Multi Cartridge
CoColeco 28:1 512K
31-in-1 Flash Cartridge
63-in-1 Flash Cartridge
Forgot some ? please e-mail, so it can be corrected.
Last 7 updates:
March 10, 2023.
February 12, 2022.
October 08, 2021.
July 31, 2021.
June 13, 2021.
April 27, 2021.
April 01, 2021.