Fred The Fred is a new coder on Coleco Homebrew scene.
He lives in Lyon, Rhône-Alpes in France.
The story is that, he in the summer of 2015 found his old ColecoVision machine in his garage and found out she's still works fine.
In the web, noted "Fred The Fred" the homebrew scene still was active, and he said to himself, why not ?
"Can I program a little game just for the fun ?".
"Yes I can do it".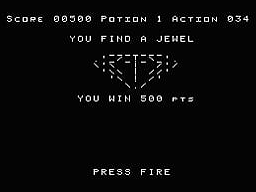 In the middle of august, began "Fred The Fred" to code CAVE.
You can check the works on the website link below.
A beta version is avaliable, but please note that a beta 2 will be online in early October 2015.
Webpage - fredthefred.com
Youtube - "Fred The Fred"
AtariAge Forum - "Cave"