Bill Loguidice is very good to make books about classic games and consoles.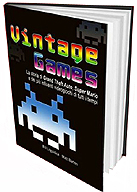 Vintage Games, 408 pages.

"They say you can't go back again, but reading Vintage Games comes close".
"The video game industry has a poor track record when it comes to preserving its history".
"A must-read for anyone even remotely interested in video gaming history".
Bill Loguidice has become a noted videogame historian and subject matter expert.
He is even a U.S.A. #1, Video Game Collector.
As a top videogame and computer historian and collector, Bill personally owns and maintains well over 350 different systems from the 1970s to the present day.
Bill is the co-founder and Managing Director for the online publication, Armchair Arcade.
Bill is also the co-founder of Myth Core, a creative development company, who works with new media, including books, film, and videogames.
Bill is hard at work on other upcoming books and projects, including a feature film documentary on the history of videogames entitled,
Gameplay: The Story of the Videogame Revolution, for Lux Digital Pictures.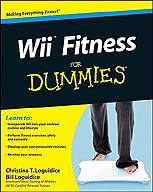 Bill and Christina Loguidice has also making this book about Fitness.
Comprehensive and fun coverage of the complete Wii Fit Plus and EA Sports Active.
Tips for achieving maximum results brief tutorials on how to get the most out of the various additional Wii fitness videogames.
Christina knows what she is talking about, she has always been interested in sport, and she obtained the black belt in Taekwondo when she was 13 years old.