Game Name: Donkey Kong
Genre: Platform
Platform: ColecoVision
Has a newer ColecoVision version of this game been released: No, only Box Variants
Other Platform releases besides this: all consoles, Home Computers, Mobiles and PCs
Rarity, Loose Cartridge: Common, Uncommon, Rare, Extremly Rare, Unbelievably Rare
Rarity, Complete In Box, Used: Common, Uncommon, Rare, Extremly Rare, Unbelievably Rare
Rarity, New In Box: Common, Uncommon, Rare, Extremly Rare, Unbelievably Rare
The displayed version: Original, Homebrew, Reproduction, Prototype
Value Traded from around: 6 to 500 U.S. $
Arcade Related ColecoVision Game: Yes
Year of Its Original Release: July 9, 1981
Initially © and Licenses: Nintendo R&D1 Japan, Nintendo Of America Inc., Coleco Inc.
Based On or similarly with: Arcade Donkey Kong
Originally First Developed by: Nintendo Japan
Original Programmed and / or Designed by: Shigeru Miyamoto
Original SFX Programmed and / or Composed by: Yukio Kaneoka
ColecoVision Game Version Programmed by: Zachary Smith, Coleco Inc.
ColecoVision GFX Programmer and / or Designer: Coleco Inc.
ColecoVision SFX Programmer and / or Designer: Coleco Inc.
Sound Output Via: SN 76489AN / AY-3-8910A / WSG 7264 / Compatible
Different Colors for ColecoVision Compared to The Original, In This Case: The Arcade Version: Yes
Expanded Color Palette for ColecoVision in addition to ColecoVision's Permanent 16 Colors: No
Number of Screenshots Provided by: ColecoVision.dk (14), and edited by: ColecoVision.dk
Working On Following Compatible Hardware Systems: ColecoVision - Phoenix VGS / PX - ADAM Family Computer System - Z3K* - Dina / Bit 7200 - HB Vision* - Bit 90* - Onyx* - SpliceVision*
Working On Following Compatible Hardware Systems With Expansion: ColecoVision - ADAM Family Computer System - SpectraVideo 318* - Hanimex Pencil II* - Laser 2001* - Salora Manager*
Working On Following Compatible Emulators: ColEM - CoolCV - BlueMSX - Meka - Mess* - Bee* - Argon*
ColecoVision PCB Size, Type and Producent: 24kb., Coleco Inc., Coleco Inc.
ColecoVision Product #: 2411
Freely Available Download Of Game: Yes, Several variants


Freely Available Download Of Manual: Yes


Sound Test or Ringtone Possible: Yes


ColecoVision Cartridge and Label #, Casing and Producent: SCC241101/4L1920 / 1921/1922/1923, Standard Black U.S. / Taiwan / Canadian / European Style, Deico
ColecoVision Label Art, Design and manufacturer by: Coleco Inc.
ColecoVision Manual Layout and Design by: Coleco Inc.
ColecoVision Manual # and Manufacturer: 78214A Coleco Inc., 11-50171-4, 2L1971 / 60.241101.71, 2L2082 / 61.241101.71, 2L2094 CBS
ColecoVision Box Shown, Box Art and Design by: ColecoVision CBS Version, Coleco Inc.
ColecoVision Box # and Manufacturer: 62.241101.40, 61.241101.65, 3P 3930/31 / 4101, 7425-2R1/2R2/2R3, Holland; 1-983 3410, Grafopack Spain
Number of Players: 1 or 2
Required: ColecoVision, Phoenix VGS or any other Compatible System + Compatible Controller(s)
ColecoVision Overlay: Original: No, Aftermarket: Yes, via Internet
ColecoVision Trading Card Available: Yes, Via: Phil Boland and Team Pixelboy
Publisher and Year: Coleco Inc. August 1982
ColecoVision.dk Game #: 3
Purchased: Around 1984
Arrived: Around 1984
Score Displayed after completion: Yes, High Score resets with New game started: Yes
Instant Save Game Feature: No, Password System: No
In-game Pause Feature: No
* Not Confirmed
x
Box Top

Cartridge Top
Box Front
Box Left
Box Right
Box Bottom
Box Back
Manual Front
Manual Back
Cartridge Front
Cartridge Bottom
Cartridge
Side
Cartridge Back
| | | | | | | |
| --- | --- | --- | --- | --- | --- | --- |
| | | | | | | |
| | | | | | | |
| | | | | | | |
| | | | | | | |
Donkey Kong was the included game in big parts of countries world wide.
In Denmark, Italy and few other countries was it Mouse Trap.
Description:
Based on the sensational Nintendo arcade game.
CBS Colecovision Donkey Kong features an action-packed rescue adventure of man against ape !.
Donkey Kong has stolen Mario's girlfriend and taken her up to the top of a steel structure.
You move Mario over girders and up ladders.
Leap over tumbling barrels, dodge lethal fireballs and jump onto fastmoving elevators, trying to rescue Mario's girlfriend from Donkey Kong!.
Donkey Kong features three incredible adventures -ramps, rivets and elevators.
Your skill and speed determine your points total.
How high can you score trying to rescue Mario's girlfriend ?.

Special hint for Donkey Kong:
Mario can move twice as fast on the ladders.
Just press joypad twice in a row.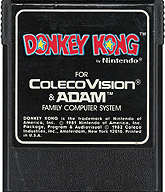 The U.S.A. ColecoVision version of Donkey Kong above is the 2nd version, labelled: For ColecoVision & ADAM Family Computer System.
The 1st USA version was just labelled: ColecoVision Presents, and made in Taiwan, later U.S.A.

High Score For The ColecoVision Version Of: Donkey Kong, Skill level: 1. ▼
XName: Tom Duncan.
XName: duncantoml.
Name: Ole Nielsen.
Name:
1st
XScore: 5.630.200 - October 27, 2004.
1st
XScore: 5.001.500 - February 01, 2008.
1st
XScore: 189.700 - April 02, 1989.
1st
XScore:
XName: Tom Parker.
XName: theking21083.
Name: Ole Nielsen.
Name:
2nd
XScore: 3.890.900 - February 28, 1984.
2nd
XScore: 3.567.500 - February 03, 2008.
2nd
XScore: 164.800 - March 16, 2009.
2nd
XScore:
XName: travis vu.
XName: ColecoNation.
Name: Jimmy Olsen.
Name:
3rd
XScore: 2.265.500 - March 29, 2002.
3rd
XScore: 1.251.400 - February 12, 2008.
3rd
XScore: 156.000 - Mid 80's.
3rd
XScore:
XName: Thane Woidan.
XName: Ikrananka.
Name: Ole Nielsen.
Name:
4th
XScore: 1.534.600 - June 14, 2015.
4th
XScore: 192.800 - April 04, 2022.
4th
XScore: 123.600 - August 18, 2007.
4th
XScore:


ColecoVision / Phoenix VGS Platform.
High Score last updated: March 06, 2020.


ColecoVision / Phoenix VGS Platform.
High Score last updated: April 17, 2022.





ColecoVision / Phoenix VGS Platform.
High Score last updated:
High Score For The ColecoVision Version Of: Donkey Kong, Skill Level: 2. ▼
XName: Tom Duncan.
XName: chuckwalla.
Name: Ole Nielsen.
Name:
1st
XScore: 1.896.500 - October 27, 2004.
1st
XScore: 81.700 - February 14, 2009.
1st
XScore:
1st
XScore:
XName:
XName: Ikrananka.
Name: Ole Nielsen.
Name:
2nd
XScore:
2nd
XScore: 79.500 - February 05, 2009.
2nd
XScore:
2nd
XScore:
XName:
XName: 1982VideoGames.
Name: Ole Nielsen.
Name:
3rd
XScore:
3rd
XScore: 60.100 - February 15, 2009.
3rd
XScore:
3rd
XScore:
XName:
XName: darthkur.
Name: Ole Nielsen.
Name:
4th
XScore:
4th
XScore: 50.800 - February 13, 2009.
4th
XScore:
4th
XScore:


ColecoVision / Phoenix VGS Platform.
High Score last updated: March 06, 2020.


ColecoVision / Phoenix VGS Platform.
High Score last updated: March 06, 2020.


ColecoVision / Phoenix VGS Platform.
High Score last updated:


ColecoVision / Phoenix VGS Platform.
High Score last updated:
High Score For The ColecoVision Version Of: Donkey Kong, Skill Level: 3. ▼
XName: Tom Duncan.
XName: CoLethalVision.
Name: Ole Nielsen.
Name:
1st
XScore: 1.200.100 - October 27, 2004.
1st
XScore: 367.300 - November 01, 2013.
1st
XScore:
1st
XScore:
XName:
XName: jblenkle.
Name: Ole Nielsen.
Name:
2nd
XScore:
2nd
XScore: 103.200 - October 28, 2013.
2nd
XScore:
2nd
XScore:
XName:
XName: Northcoastgamer.
Name: Ole Nielsen.
Name:
3rd
XScore:
3rd
XScore: 99.900 - October 24, 2013.
3rd
XScore:
3rd
XScore:
XName:
XName: CoLethalVision.
Name: Ole Nielsen.
Name:
4th
XScore:
4th
XScore: 98.200 - October 24, 2013.
4th
XScore:
4th
XScore:


ColecoVision / Phoenix VGS Platform.
High Score last updated: March 06, 2020.


ColecoVision / Phoenix VGS Platform.
High Score last updated: March 06, 2020.


ColecoVision / Phoenix VGS Platform.
High Score last updated:


ColecoVision / Phoenix VGS Platform.
High Score last updated:
High Score For The ColecoVision Version Of: Donkey Kong, Skill Level: 4. ▼
XName: Tom Duncan.
XName: DuggerVideoGames.
Name: Ole Nielsen.
Name:
1st
XScore: 854.800 - October 27, 2004.
1st
XScore: 1.862.600 - May 23, 2018.
1st
XScore:
1st
XScore:
XName: Patrick Wyrick.
XName: jblenkle.
Name: Ole Nielsen.
Name:
2nd
XScore: 57.700 - March 29, 2002.
2nd
XScore: 576.100 - May 23, 2018.
2nd
XScore:
2nd
XScore:
XName: Stephen Knox.
XName: jblenkle.
Name: Ole Nielsen.
Name:
3rd
XScore: 32.200 - July 12, 2001.
3rd
XScore: 354.900 - May 25, 2018.
3rd
XScore:
3rd
XScore:
XName: Shane Monroe.
XName: jblenkle.
Name: Ole Nielsen.
Name:
4th
XScore: 25.400 - March 29, 2002.
4th
XScore: 194.000 - May 25, 2018.
4th
XScore:
4th
XScore:


ColecoVision / Phoenix VGS Platform.
High Score last updated: March 06, 2020.


ColecoVision / Phoenix VGS Platform.
High Score last updated: March 06, 2020.


ColecoVision / Phoenix VGS Platform.
High Score last updated:


ColecoVision / Phoenix VGS Platform.
High Score last updated:
ColecoVision.dk Game # 3, Donkey Kong was last updated on: September 09, 2022.
Please report errors regarding this ColecoVision game.
Sheet # 83x4