This was my first arcade experimental project with my ColecoVision.
An CBS Colecovision in a homemade mini cabinet.
Real stuff with player 1 and player 2 plus a real analog insert coin unit.
The project was made around 1987/88.
The ColecoVision was mounted inside this wood cabinet made of chipboard.
I made this for a very long time ago.

I have no picture of it, but some I still have parts of it, I found the parts for some time ago in my basement.
Someone I knew who works with arcade machines from the 80's helped me with some parts.
Back then, my cousin Jimmy and I had a few slot machines and a single pinball machine.
(Mad Melons, Extra Bonus and Time Zone.)
This guy had helped me before with a used loose arcade joystick and 2 new fire buttons.
That was for an earlier Joystick project.
After the joystick project around 1985/86, I ordered 2 more buttons and a coin slot from the guy.
At the former electronics store RCE electronics on Boulevarden in Aalborg, Denmark (Now closed) do I find the db 9 connectors.
I had an extra small power supply to the light inside for player 1 and 2.
A little metal plate was made for the joysticks, and the coin slot was mounted.
A ColecoVision Controller was disassembled and the wires were mounted so that player 1 was set to number 1 and player 2 was set at number 5 on the keypad.
The coin slot was set to the

symbol, key 1 or reset, I don't remember.
Me, my cousins and friends played almost everyday and we fought against each other to reach the highest score.
-We were quite wild sometimes.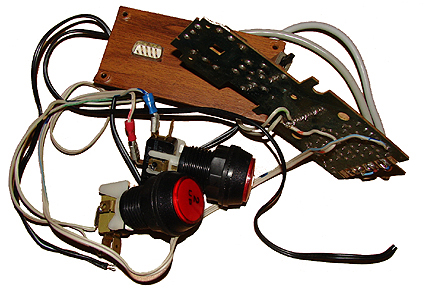 This is what is left from the project in the 80's.
The box with the coin slot was thrown away sometime around 1999, I think.
Last updated: January 15. 2016.